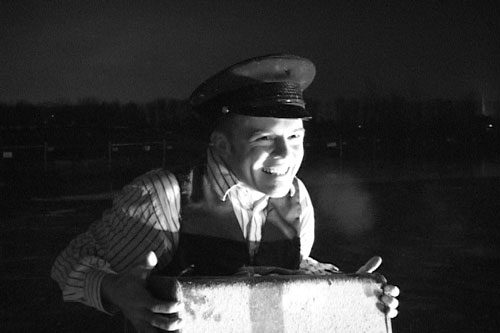 Terrorism. War. Lost Luggage.
Waiting for a train has never been this exciting.
The search for lost luggage leads to bizarre encounters, diabolical terrorism, and even the key to winning a long-standing civil war in this existential farce which has little to do with the Samuel Beckett play Waiting for Godot. While the others in the Beckett play are just waiting around for him, we learn what has delayed Godot (pronounced Gu-doe. It's French. Samuel Beckett wrote Waiting for Godot in French, although he was Irish. He later translated it to English. Yes, that is odd).

Rick Stokes delivers the ultimate straight-man performance as the unwitting and unwilling Godot as he bumbles from one encounter to another. With a good dose of Monty Python-esque dialogue and homages to the old school comedy of Jack Benny, the Three Stooges, and Abbott and Costello, this is an independent film that was almost not completed thanks to the weather, a not-so accurate train schedule and that unfortunate bomb scare. 70 minutes, original and classic songs, suitable for general audiences.
Written by M. Thomas Cooper. Directed and Produced by Greg Kerr.
Starring Rick Stokes as Godot, Shawn Cates as The Porter, Steve Coker as Constable Burl, and Molly Stack as Christine Aruba-Orleans.