Karla Mason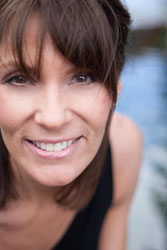 Producer. Writer. Creative Director. Actress.
Professional writer, producer, and critically acclaimed actress Karla Mason has enjoyed a varied professional career that has taken her from stage to film—from the West Coast to East Coast and back again over the past twenty years.
As an actress, her film and TV credits include As the World Turns, America's Most Wanted, PBS's American Masters: None without Sin, and the independent feature films Unremembered, Tornado States and soon to be released Lie Detector—along with countless commercials and industrials.
Her prolific stage credits include leading roles at such regional theatres as Charlotte Repertory Theatre, NC; Hippodrome State Theatre, FL; Virginia Stage Co.; New Jersey Shakespeare Festival; Profile Theatre, Portland, OR … and more. New York credits include leading appearances at the Mint Theatre, Grove Street Playhouse, and One Dream, among others.
Karla has had the pleasure of working with some outstanding names in the industry, including having been directed by Dylan Baker and Tony Award winning directors Bart Sher and John Rando. She has toured nationally, and taught and directed under the auspices of the California Theatre Centre.
Karla has appeared in the FBF movies Wrong Room and Portland Dom.
Website